"Last July, my husband and I went to Aruba for three weeks. Ten days before we were supposed to leave, the person who had promised to take care of our dog suddenly pulled out. We didn't know what to do! We called our vet who recommended Animado. They found us a host family nearby in our own district right away. The family is just great and they live in a nice house with a huge yard. Boy did we feel reassured when we finally left. Of course we called them up during our vacation. Everything went just fine. Jack played like crazy with them. When we came back to get him, he didn't even want to leave! For us, that's the best test!"
Mrs. Chapelle, Versailles.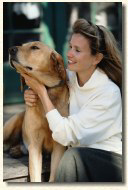 "Two months ago I had to have emergency surgery. I couldn't leave my 13-year old cat all on his own. I just didn't know anyone who could take care of him. I was panic stricken. I called up the Brigitte Bardot Foundation and they recommended Animado. One of their pet caretakers came over every day and took care of Domino. When I got out of the hospital, he was in great shape. Their caretakers are really serious people. I wouldn't hesitate to call on them again. "
Mrs. Bertrand, Paris.